Joined

Mar 19, 2015
Messages

18,907
Reaction score

23,340
Location
Alright so I've got a huge backlog of shit I want to make ngds for, but I figured I'd start with the WR7 I got a few months ago. I've played a couple of these over the years but none of them clicked with me feel wise until I found this one.
Fit/Finish:
I bought it used so I have no idea which of the minor dings and scratches are from the factory or from being manhandled by the previous owner. For what it is, it's in pretty good shape, with the corners being my main concern. Thankfully none of the point edges are dinged up bad, or worse broken off like the Mille Petrozza sig I tried a few weeks back. There's no clouding or swirl marks in the clear coat, with the clear being very thin and barely filling some of the more porous endgrain of the "mahogany".
I originally wanted the grey ash topped version as I thought it looked cooler, but honestly, the simple natural palette of this one won me over. For such an aggressive/extreme shape the palette and tiny sharktooth inlays makes it look much more elegant versus other warriors that jackson carries currently.
Speaking of the inlays, there are some verrrrry minute gaps around the inlays in spots. Not a huge deal since you have to literally have your face right up to the fretboard to see it, but I figured I'd mention it.
The black binding is a really nice touch around the headstock, and frankly I wish they'd done something like a black pinstripe on the body to tie into it. But whatever, that's just me daydreaming about specs.
Feel/playability:
Initial setup was very good, with no dead spots or high frets. I didn't really have to adjust the trem or action height at all from where the previous owner had it set up. As such it's a joy to play, especially coming from mostly playing longer scale guitars for the last few years. I didn't think it would make a huge difference but the 25.5" scale makes playing some of Dave's runs on Great is Our Sin/Outer Ones wayyy easier compared to my 27" scale Balaguer or 28" scale ormsby. Not that I can't play his stuff on those guitars, it's just this one feels "right" for it. Also I'm a big fanboi of Revocation so that probably has more to do with it.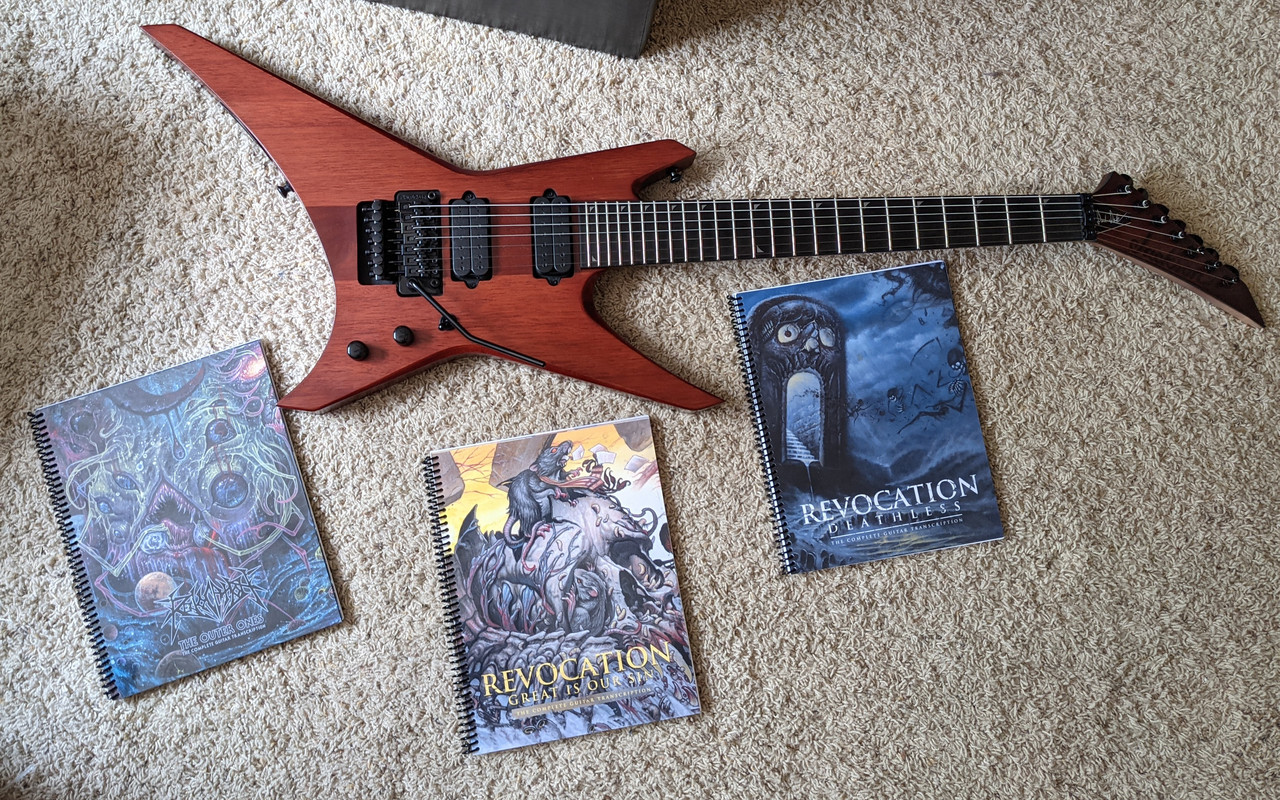 Neck is like a thin flat D shape from what I can tell. Relatively close to the necks on my 070, and nowhere near as chunky as my Balaguer or Ormsby's neck. Normally I hate thin necks as they hurt my hands, but this one is very comfortable for me.
The warrior shape is extremely comfy for me whether I strap it up and play standing, or I play it sitting. I think it better supports the classical position than other positions, but that's just because I prefer classical positioning. The shape does sit perfectly for classical positioning though, moreso than a rhoads or superstrat ever do.
Sound
: I love the Imperiums in this guitar. The cleans are nice but not amazing. They definitely don't do the ultra clear ultra modern djent stuff as well as they do warmer jazzbox type cleans though. The split coil modes are great for spankier riffs and actually do a good job of approximating single coil type tones imo.
The bridge pickup has a thick, growling low end with a nice firm midrange. It's not overly vocal in the mids like say a juggernaut or JB, but it does have a fair bit of mid bite to it. High end is good but not overly harsh. Output is like medium/medium high from what I can tell. Bass response is pretty good but not stupidly tight like say dominions or titans.
Neck pickup is warmer on the high end comparatively and has better cleans tbh. Split sound is better as well. I prefer it for lead work over the bridge pickup as that roundness to the high end works better for sweeps and adding that extra sweetness/a bit of that vocal quality to single notes.
Anyways, here's a pile of clips through a bunch of my amps. gear used is in the track descriptions.
https://soundcloud.com/knightbrolaire/sets/imperium-7
oh and of course, the most important part. PICS: