Retired bassist pretending to play guitar
Joined

May 3, 2013
Messages

870
Reaction score

756
Location
I've been toying with standard B and Drop A tuning for a while now, but it was on a 25.5" scale guitar. It never felt right to me, so I decided to go baritone. I was looking into getting a baritone like a Mayones or the like but I asked myself, what do I really want to do with it? So, I went back to my roots.
I'm an old geezer by most of your standards a 55. My roots in playing started off in Maiden/Priest and The Big 4. I am a child of thrash, but the first songs I ever played were Sabbath. Paranoid and Iron Man were mainstays. Past that I love FF, KSE, Pantera ATR, Korn, Slipknot and the usual suspects but I can't seem to latch on to newer stuff. Don't get me wrong but djent eludes me and bands like Polyphia while talent and musicianship is undeniable just isn't something I can not gravitate to.
So I went backward.
Listening to a lot of old doom. Sabbath is the progenitors of course. Saint Vitus. Candlemass. etc... Primordeal metal by todays standard. I wanted a guitar that matched the style, and had earlier stumbled across Dunable and didn't give them a lot of thought. I had a lot of questions, primarily about the neck shape and the pickups. When I reached out I was supervised t discover I was talking to Sacha Dunable himself. Dude was all over my questions, Answered honest and was just nice.
And so as a result...here is this guitar and it is a god damn
Doom Machine
.
Just to save you the breath, I knew about the mark. I got a substantial discount off it because of that. This is a weapon, not a piece of art. Without a full review I will say that I had concerns about the neck, but no more. That neck is astounding. After I got it set up, tuned and installed strapslocks on it the first thing I played was Warpigs. I haven't even plugged it in yet to check out the Hellworm pickups, which are wound in house.
Without further ado...pictures.
Over all view- 27.5 inch scale in all of it's glory! Body shape inspired by a Dano?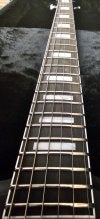 I chose this model in part because I just love this bridge!. "Bound and Blocked". Neck feeling incredible in the hand. Concerns with the "chunkiness" and paint is no more.
In pics this headstock looks huge and ugly...but in person it's quite graceful
Pleasant surprise: Hipshot locking tuners! Specs said they were not locking Tuners and I had planned to replace them.
Big a$$$$$ discount!!!
Ha! Hahahahah!