Joined

Jun 12, 2008
Messages

709
Reaction score

553
Location
Copying this over from the 2022 Ibanez thread as a advisory to others that may be interested in these.
So this Ibanez QX54 just arrived this morning and.... *deep sigh*.
TLDR, shit wiring.
First the good. Love the shape, weight and especially the balance. Very comfy standing and probably one of the most comfortable and well-balanced guitars I've ever tried for classical position while sitting.
As for the slanted frets, they're really interesting and I'd be curious how'd they feel playing long term but honestly, I could take them or leave them. It's different but not really game changing and, imo, for every spot on the fretboard that benefits in feel somewhere else feels to suffer. You can tell the guitar is trying to achieve ~something~ but it also highlights why the neutrality of straight frets is the standard.
But the frets themselves are the end of good impressions. The sides were fine but the top of frets while playing were noticeably rough which was disappointing considering how much the gold evo material was hyped up. I really don't care for the debate between standard frets and stainless frets but these felt like the rough as frets you come across on shop guitars that have sat on the well for months and nothing like even the worst of stainless steel I've touched. You can really tell these probably sat for months waiting to be shipped.
But whatever, I can polish some frets and like I said, the shape and balance was so good I was willing to go with it. So I plug in the guitar and immediately hit with buzzing despite being on the bridge pickup so I figure I'm switched on some kind of single coil mode. I toggle through the settings for a bit and it doesn't go away and I even pull up the Ibanez website to make sure I was doing the right thing at which point I say out loud, "what is wrong with you" and tap the bridge pickup with my finger and am hit with an even louder *bzzzt*.
Okay, time to pop this open and see if there's a loose ground or some other wire and what I find is even worse. Nothing obviously loose but overall an absolute horror show of poor soldering which could have a point of failure anywhere in the complete salad of wires necessary for the fancy wiring setup.
Likely the source of the buzzing. This poor ground wire holding on for dear life and also not trimmed or positioned in a sensible way at all.
But wait, there's more (just within eye shot)...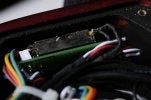 And even more. Not even an attempt to wire this up securely.
Not going to show every soldering point but even the best of what was going on looked amateur. I didn't even venture to all the wiring for the 'alter switch' system which I wouldn't be surprised also had major issues. The bridge pickup did sound off and the switch didn't seem to do much but it's sort of a moot point.
I wouldn't even expect this kind of low attention to detail from a guitar half this price. And having just received a Schecter recently that I literally can't find a fault with, this is just embarrassing.
Needless to say, it's going right back and an extra bummer because it really sours me to Ibanez. I love my Genesis and really liked what this guitar had to offer but the premium on them is absurd for what's very much Ibanez standard line import quality.
@MaxOfMetal
was of course correct about the pitfalls about the first gen of new Ibanez guitars...
Last edited: