Joined

Aug 1, 2013
Messages

12
Reaction score

14
Location
So... this is the result of nearly four years' development (on and off) of a prototype that I hope will prove of interest to a few out there... it would be really great to hear what anyone thinks - it's all been in my own head too long and I need feedback!
I'll start with a few pictures and follow with an in-depth explanation: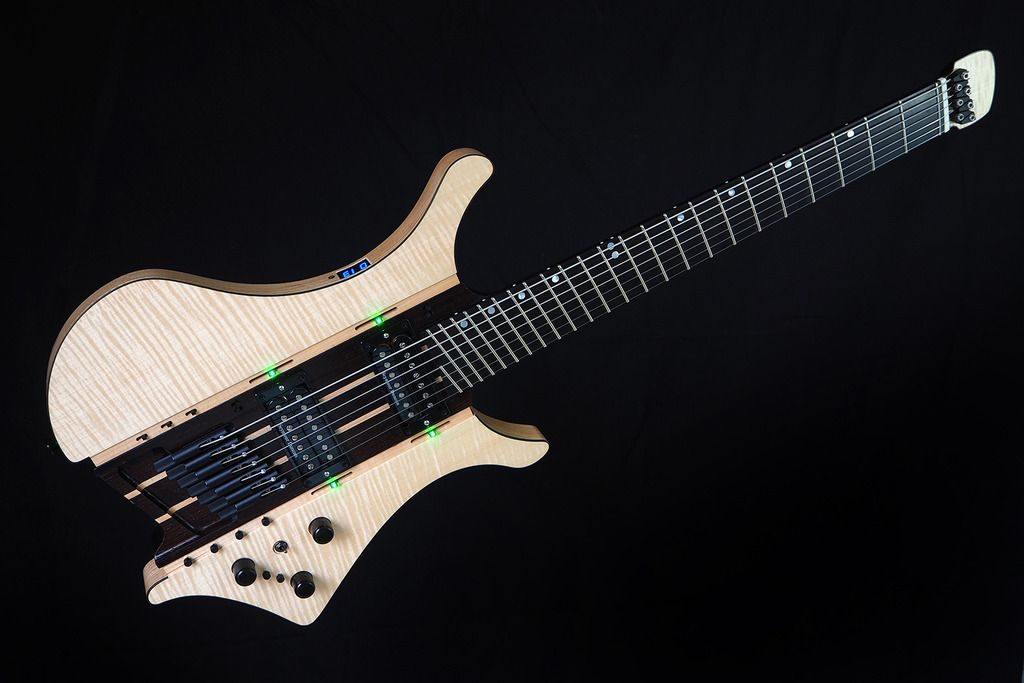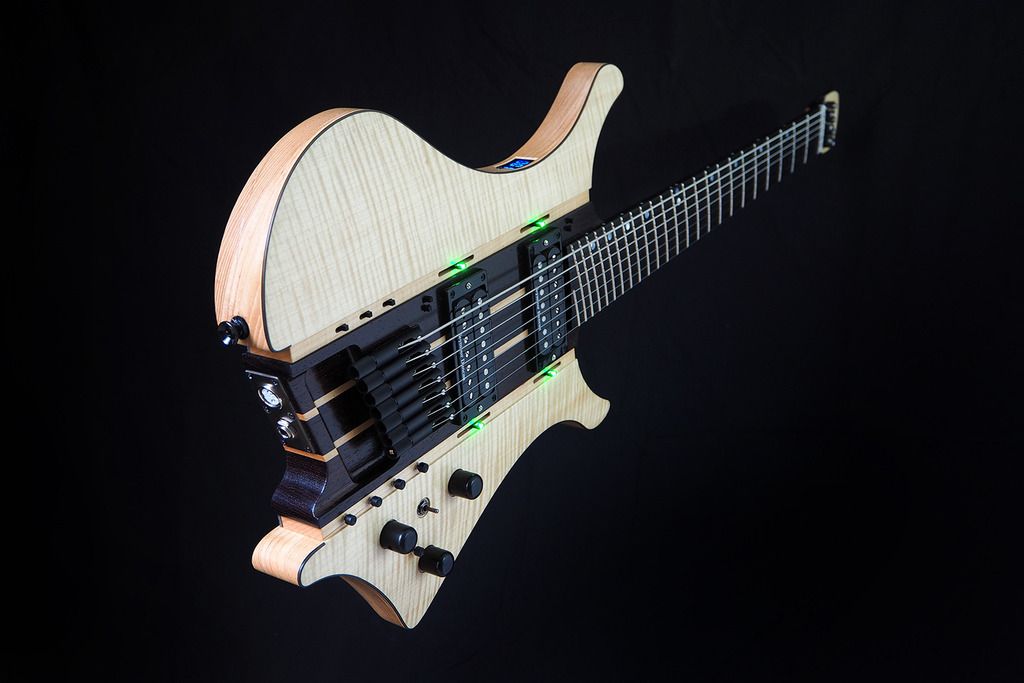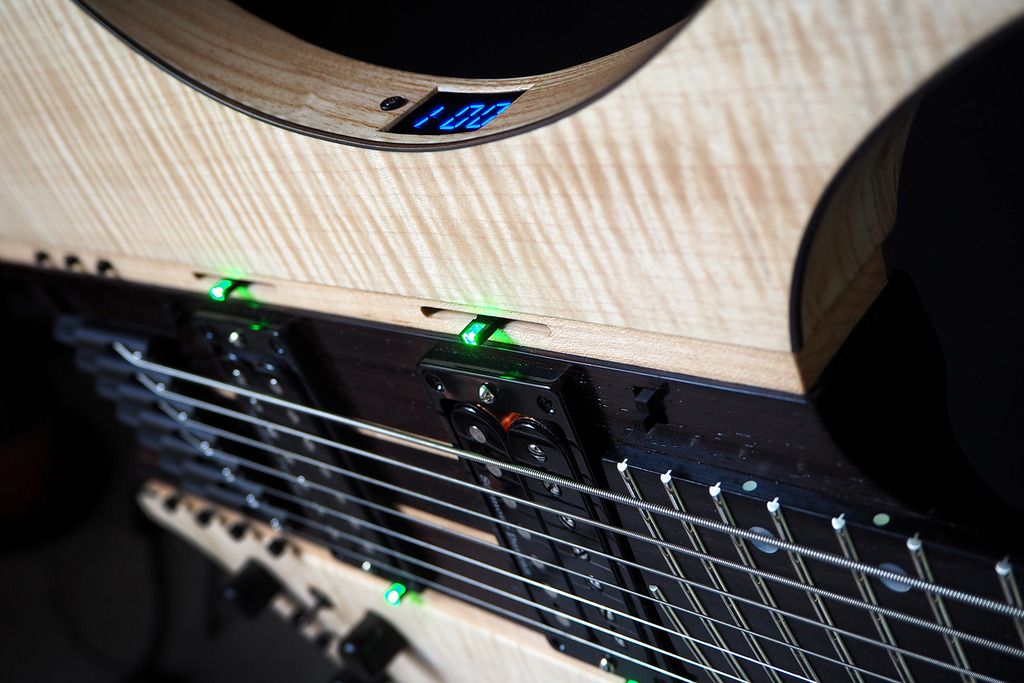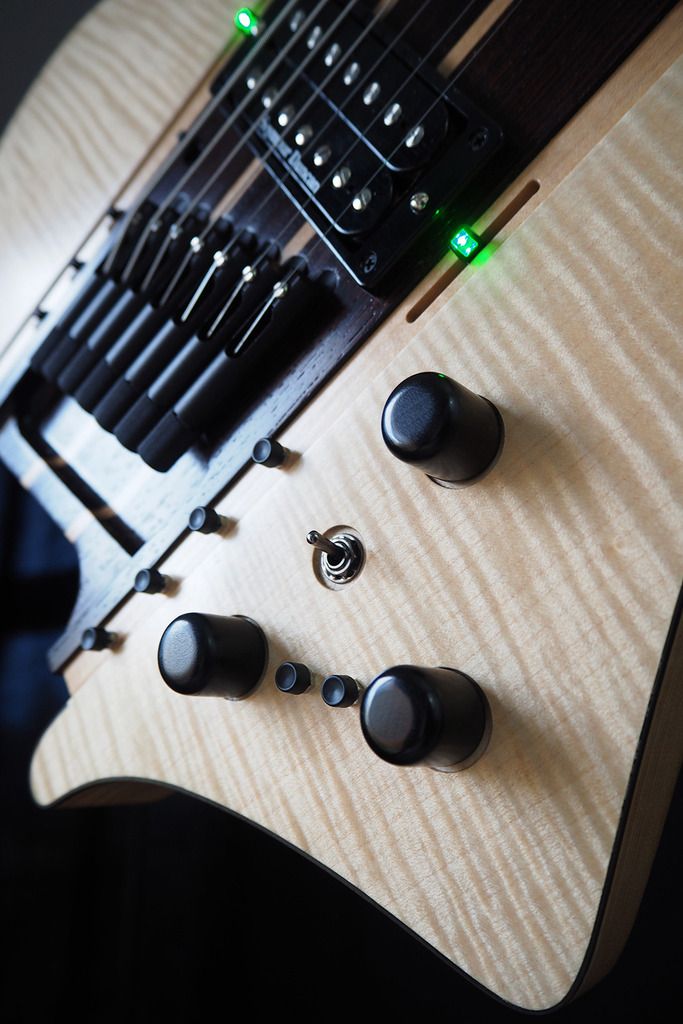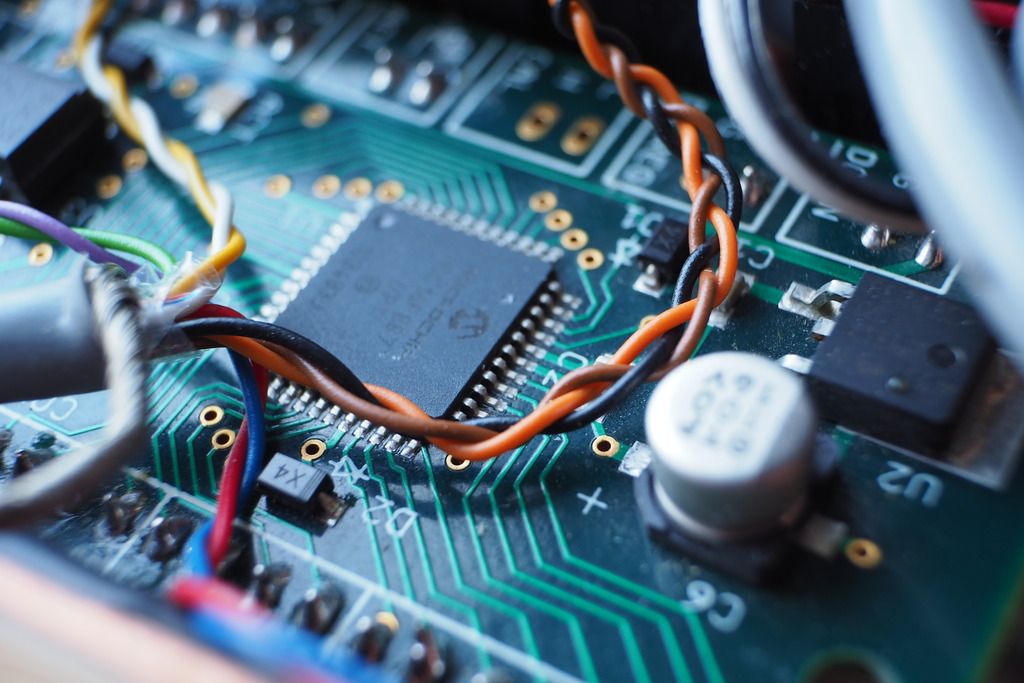 Close up of the on-board microprocessor
Design:
Inspired by the development of the Strandberg, the shape is designed to be ergonomic without compromising the aesthetic, allowing for different balanced playing positions when sitting - see photos below.
The headless design creates a more comfortable weight distribution by taking weight away from the headstock, utilising Strandberg fixed tuning bridges on the body and string clamps at the head.
The neck profile on this prototype began with the principals of the trapezoid shapes introduced by Rick Toone and Ola Strandberg but with the corners softened and flat planes merged to create an asymmetrical flat 'U' shape, thicker on the bass side, for a more comfortable left hand playing position which I hope will appeal to a wide range of playing styles.
The extended range 7-string instrument is also multiscale (25.5" - 26.5") for improved ergonomics, tone and intonation. The fanned frets are parallel at the 5th. Luminlay dot markers to fingerboard edge, mother of pearl to front.
Construction:
Through 5-part neck is shaped and routed before joining to the body sides. The body is made from two separate sides with radius carving to front and back, and are made individually as components as a lot of routing takes place before assembly to house electronics. Separate hardwood strips, again pre-routed for electronics, are sandwiched between sides and body wings completing the modular construction of this instrument. This allows for componentising production in a thru neck instrument, meaning modifications are more easily accomplished in single components as required, so mass production of blanks is possible which than then be customised rather than having to customise the entire guitar as one unit.
'Traditional' electronics:

Seymour Duncan JB (bridge) and SH-2n Jazz (neck) each have two mini switches on the bass side of the thru neck, wired to mimic the Seymour Duncan "Triple Shot" covers (not available for extended range pickups), allowing each pup to be split to single coil only (slug and pole individually selectable), series humbucking or parallel humbucking. In combination with the 3 way pickup selector switch there are 24 possible pickup configurations possible providing a massive pure tonal range before you even touch the tone control pot - this really needs to be heard to be appreciated! The switching is discrete but easy to use, and does not interfere with play.
On-board MIDI controller:
NOTE: this guitar does NOT produce MIDI note data.
It does, however, have something I reckon is pretty exciting... wireless (or wired) control of MIDI capable digital effects processors, right at your fingertips!
Digital signal effects processing continues to improve apace, and is becoming a major part of both studio and live rigs for more and more players - and I seriously believe it won't be too long before it becomes the main rig for many. I wanted to find a way of being able to control parameters and presets directly from the guitar itself in a carefully considered ergonomic way, rather than having to reach out to an external device in order to change your sound. The on board controller on this prototype is simple... but highly flexible and very, very effective.
Digital effects processors, such as Positive Grid's BiasFX and JamUp Pro, Yonac's Tonestack and Irig's Amplitube on iOS and Mac use presets to store multiple configurations of amp and effects chains and their parameters' positions, meaning you can build up a library of rigs that are very quickly accessible. On this prototype, the third pot (closest to the bridge) increments a number up and down on an LED display located on the top edge of the guitar's body. When the button next to the pot is pressed, a program change (pc) message is sent to the external device which triggers a preset change to match the number selected on the display. There are 128 individually selectable presets available making a vast user library of sounds directly accessible from the guitar.
Once your preset is selected it is then possible to modify the chain and parameters within it, as you play. There are four sliders mounted either end of the pickups - out of the way for picking and strumming but close by for use while playing. These send control change (cc) messages and are used to modify individual parameters within the digital processing chain - in other words you can change delay time, reverb amount, distortion level, flange or phaser depth etc., etc... you name it.
There are also four miniature 'stomp pedal' push-switches that allow you to turn individual effects on and off, e.g. turning individual 'pedals' on and off, or the BPM mode in a delay effect, or even to toggle recording or sample playback on and off in apps such as Loopy, or used to send PC messages to change presets like a pedalboard. Together with the sliders they can be used to control any parameter in any software that accepts incoming MIDI data and has a MIDI learn function - imagine what might be possible using Max/MSP or PureData for example...
Within BiasFX, Tonestack and Amplitube both push-switch and slider control assignments can be saved in the software with each preset, meaning each controller may be used in many different ways and set as the preset loads. Tonestack in particular has an incredible implementation of MIDI control and works beautifully. In practice I'm finding it probably makes sense to create a habit of assigning a particular slider with a 'style' of function, eg slider 1 usually controls distortion level or amp modification, slider 2 usually controls modulation parameters, slider 3 usually controls delay, slider 4 reverb etc., all of course tailored to your own style of playing and the particular rig you have loaded up.
Finally there is a further momentary push-switch that sends a 'snapshot' of all the sliders current positions to the software to enable its parameters to instantly match the physical slider positions. There are also three slide switches on the left of the bridges, one for power to the controller, one to change the display between 0-127 and 1-128 as the systems vary in how they number presets, and one to turn the slider LEDs on or off.
There are of course several hardware rack digital signal processors available too, such as AxeFX, Kemper Modeller, Pod Pro etc that I believe this will work with in it's current incarnation although perhaps some better than others - I haven't yet had the opportunity to test. If there is anyone out there who can confirm which of these are capable of MIDI Learn..? I thing the AxeFX is at least..?
At this point wireless communication is via a Quicco Sound mi.1 unit plugged into the MIDI OUT 5-pin din next to the guitar output jack. Another module has just been released by Yamaha and I expect more to follow, but if my concept ever goes into production it will be custom built in to the guitar as part of its own internal circuitry. I have also prototyped a double snakehead lead combining 1/4" jack with MIDI 5-pin at each end, meaning there is only one cable if you want to use the MIDI wired direct into your interface rather than wireless to iOS or MacOS. Currently the BT4 wireless protocol only seems to work with MIDI on Apple products and not Windows, but the wired version works just fine. Please note the guitar works perfectly as a 'normal' guitar independently from the MIDI control if you choose not to use it, with a regular guitar lead. The MIDI and wireless is powered by a standard 9V battery.
Prototype Specs:
Neck - 5 piece wenge / maple through construction
Body - Swamp Ash with figured sycamore caps, ebony edging, maple connection strips
Fingerboard - ebony with 24 fanned frets (parallel at 5th), ss zero fret, luminlay markers to side, mother of pearl to face
Scale length - 25.5" - 26.5"
Strandberg fixed bridges and string clamps
Volume, tone and 3 way pickup selector
Coil tap, series and parallel switching
Preset selection (program change) via encoder, 3 digit LED display, and push switch
Parameter control (control change) via 4x slide pots with integral LEDs (green, blue or red in any combination available)
Parameter control (MIDI toggle) via 4x momentary switches
MIDI activity LED
1/4" mono output and 5 pin standard MIDI OUT port
What I'd really appreciate is hearing if any folks out there would find the on-board MIDI controller concept a useful addition to their rigs... as well as constructive criticism of the design and build.
Any and all comments welcome!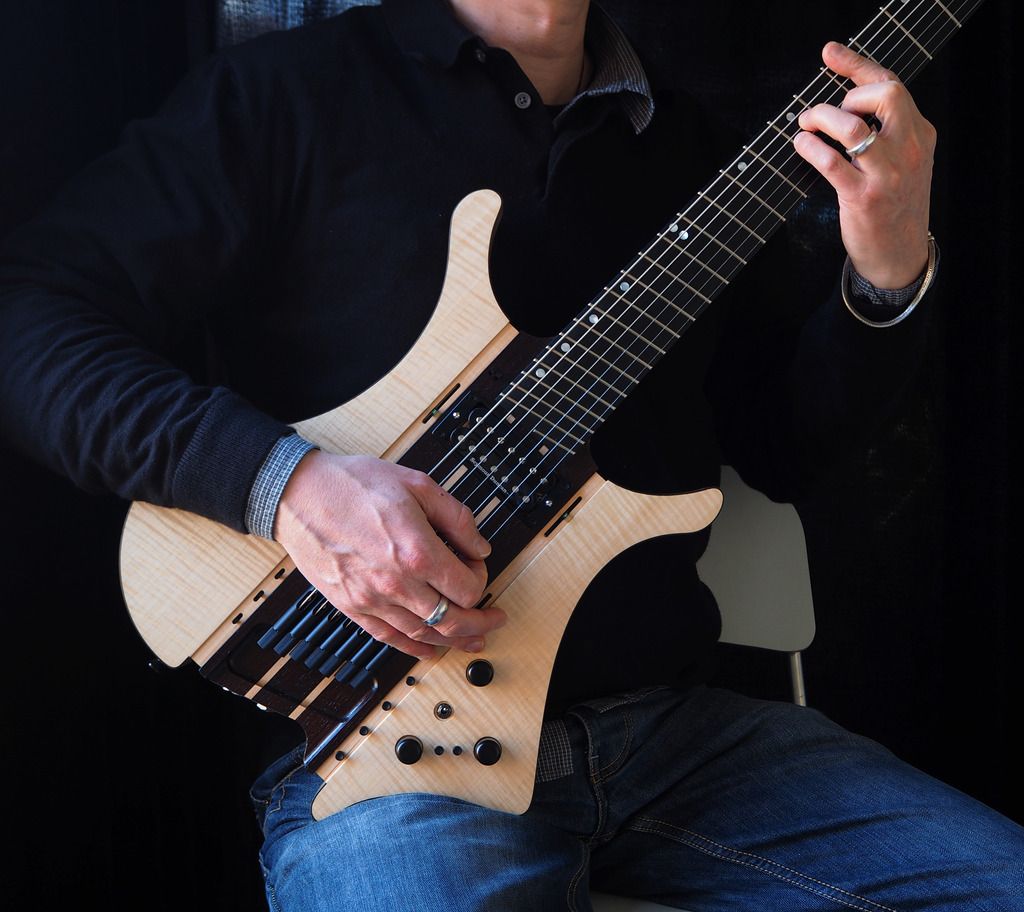 Seated playing positions