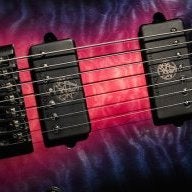 Last Activity:

Oct 14, 2021
Joined:

Jan 26, 2011
Messages:

2,627
Likes Received:

640
Occupation:

Military, DoD
Loading...

Loading...

About

Occupation:

Military, DoD

Primary Seven:

KxK 7DC #11

Main Rig:

ENGL Ironball

Real Name:

Joe

Sevenstring Guitars:

KxK 7DC#11
Daemoness Cimmerian 7 "Phillipeans Crusader"
Daemoness Valkenbyrd 7 "Yog-Sothoth" (in progress)
High spec and will suck you into another dimension, literally. A trans-dimensional portal is being built into it.

Vik FF8 Run (2013 deposit, run hasn't started yet)

Other Guitars:

Ibanez 88' JEM 77FP- BKP C-Bomb/b + Painkiller/n,
BC Rich Stealth 'Chuck Schuldiner Tribute'- Miracle Man,
Kramer 88' Pacer- BKP A-Pig/b + SD mini 59'/n,
Schecter Hellraiser- EMG 81/85 (yuck, PKs will replace),
Les Paul knock off (Black Beauty clone)- BKP Cold Sweat/b + SD Black Back EVH proprietary/n

Preamp/Amps:

KSR Ares w/ 6550 tubes
ENGL Ironball
EVH 5153 50w
Peavey 5150 Sig 60w 2x12

Effects & Pedals:

Pro Tone Pedals KM-OD, Loomis OD
ISP Decimator,
Morley Bad Horsey 2 Wah

Cabinets / Monitors:

Mesa 1x12 with Dark Shadow 90watt

Studio & Recording Gear:

Tascam DR07 Limited recorder for riff/idea recording. Yeah, that's it, as I've yet to rebuild some semblance of a studio. A work in progress!

Misc/Other Gear:

100+ year old German violin from The Violin House of Weaver.

A quality, never fail sidearm. H&K preferred.

military, guitars, music, guns, amps, FPS, coral reef tanks

Interact

Signature

Daemoness, KxK, Ormsby, tons others

If it makes crushing metal tone, I will use it.
= 0) && (displayOnPages.indexOf(pageType) >= 0) && (displayOnUser.indexOf(userType) >= 0)) { googletag.cmd.push(function() { googletag.display('div-gpt-ad-sevenstring_rosbtf_728x90'); }); }